How to Minimize Infection at Work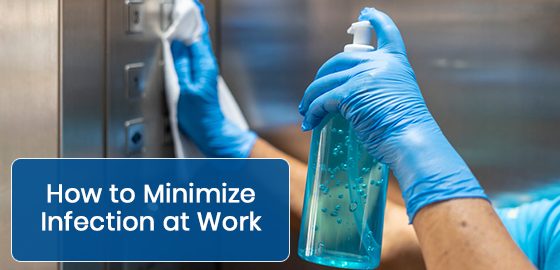 Ever since the rise of COVID-19 and increase in infection rates, employers have had to be more vigilant when it comes to cleaning and disinfecting workstations, bathrooms, and offices at their commercial buildings. While we must all do our part to stop the rapid spread of COVID-19 (such as practicing proper hygiene), there are certain aspects that fall upon an employer's or business owner's responsibility list.
We will discuss these factors further in the article below. Keep in mind that as an employer it's important that you prioritize the safety and health of your employees and, furthermore, of the public in general. To ensure that you are doing the right thing during these unprecedented times, please read on to find out more about minimizing infection rates of COVID-19 at work.
Keep Sanitized and Disinfected
Of course, in order to help prevent the spread of COVID-19, or any virus for that matter, you will need to attend to cleaning, sanitizing, and disinfecting your workplace regularly. Don't neglect this or put it off for too many days. Remember that sanitizing only kills surface bacteria, whereas disinfecting kills both bacteria and viruses, which is essential in stopping the spread of COVID-19. 
Make sure your products have the right chemicals in them to disinfect while you clean, so that you aren't wasting time or avoiding the real issue. Always stay protected while cleaning and disinfecting by wearing a mask and gloves, including when vacuuming and dusting. Dirt and bacteria can easily accumulate and linger in nooks and crevices, especially when your workplace is cluttered and not organized. Keep a neat, clutter-free environment so that it is easier to maintain cleanliness and order.
Monitor Confirmed COVID-19 Cases
It goes without saying that it's important to know and monitor which staff has been or is infected with COVID-19. Once someone tests positive for the virus, it is in the best interest of the rest of your employees to disclose pertinent information so that others may get tested as well if they've been in close contact with that person. 
You will also need to make arrangements to have the infected workstation cleaned and disinfected thoroughly, and for staff who may have been exposed to stay home until they receive test results.  As the protocols change regularly we recommend you check with and follow your current local public health guidelines.
Keep Hand Sanitizer Nearby
Always keep hand sanitizer where employees and visitors can clearly see and access it. This way, they will feel more compelled to use it and they won't be inconvenienced trying to find some when they need it. Keep hand sanitizer near entrances and in the washrooms as well so that bacteria spread is minimized throughout the workplace.
Focus on High-Touch Surfaces
When cleaning and disinfecting, focus on surfaces that have been touched or used regularly. This can include desks, kitchen countertops, and doorknobs. In offices, keypads, mice, and phones may also need to be wiped down regularly. Think of the things that everyone reaches for such as light switches, stairway rails, and the like.
Use High-Quality Cleaning Products
When cleaning and disinfecting your workplace, always use high-quality cleaning products that are safe for use and can clean and disinfect effectively. Read the instructions on the label and be diligent in following them. Ensure that the area you are cleaning is properly ventilated, and that you are wearing protective equipment such as gloves and a mask to reduce exposure to hazardous chemicals in the cleaning solutions.
Allow Employee Sick Days
When employees come to work, it's important that they feel safe and comfortable so that they can maintain productivity and work effectively. Employees who are ill or do not feel well should be able to excuse themselves from the workplace and take a sick day. This is especially important during the pandemic, as employers must be able to recognize potential symptoms of COVID-19 and allow employees to take time off work if they are unwell.
If an employee who is infected comes into work, you risk the whole office becoming infected and others falling ill to the virus as well. It's always better to allow employees time off work so they can take care of themselves and limit exposure to other employees and the general public.
Why You Need Professional Cleaning Services
Cleaning is a full-time job all by itself. This is especially true when you consider that surfaces need to be cleaned thoroughly and disinfected properly to kill COVID-19 virus to limit the risk of infecting others. 
Instead of worrying about fitting a cleaning routine into your schedule (or assigning cleaning tasks to your staff who are already busy), think about hiring professional help. A professional cleaning team can work with you to make sure your office is always in great shape and that your staff are safe and happy. They will work behind the scenes to keep COVID-19 at bay, and keep your workplace a healthy environment.
All in all, professional cleaners can do a lot more for you and your workplace than just keeping an aesthetically pleasing environment. It's more important than ever that you are using the right products and techniques when it comes to cleaning. Instead of worrying about all of this, why not just leave it to the professionals and check one more thing off your to-do list?
For more information on professional cleaning and disinfection services, please call RBC Clean at 1-866-278-8208 or contact us here. We take pride in our team of dedicated professionals who provide excellent cleaning and disinfecting services. Contact us today to learn more about how we can help keep you and your employees safe.