Office Cleaning vs. Janitorial Services: What's the Difference?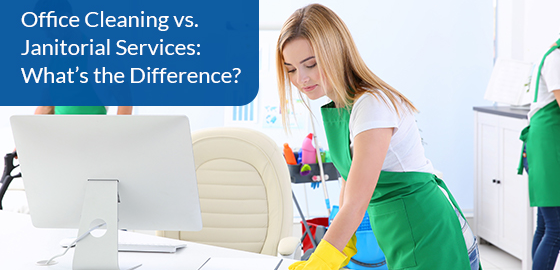 It's important to keep your office clean, organized, and in good repair. After all, the appearance of your workplace has a huge impact on productivity, safety, and the overall success of your business. 
Employee productivity and job satisfaction are linked to having a tidy and hygienic workplace. In addition, a well-maintained office makes a better first impression on visitors, clients, and business associates.
However, cleaning and maintaining an office is no small task. That's why most companies hire commercial cleaners who offer janitorial and office cleaning services. Tidying or cleaning your office and hiring a Janitorial service or commercial office cleaning service are two distinct things —and you will need both.
But what is the difference between the two? In this blog, we distinguish between office cleaning and janitorial cleaning services and explain how they can both benefit your office space.
What is commercial office cleaning?
Commercial office cleaning services typically involve larger, more complex jobs that do not need to be completed on a daily basis. These are the tasks that in house staff usually cannot (or will not) handle. 
Unlike in-house staff, commercial cleaners have access to professional-grade equipment and better cleaning products to effectively clean your workplace. When your office needs a deep clean, it's time to bring in a commercial cleaner.
How often do you need commercial office cleaning?
Although many businesses schedule commercial cleaning services for one big job per year, this isn't the most effective use of a commercial cleaner. Maintaining an office building is a large task. Consequently, contracting a commercial cleaner for several appointments throughout the year is the best way to keep your building in good condition and avoid expensive repairs.
It's useful to consider the needs of your office when contacting a commercial cleaner. What big cleaning projects are needed to keep your office clean and sanitary? How often should these tasks be completed? Once you know the answers, you can begin to develop a cleaning schedule with a commercial cleaner.
4 Advantages of Commercial Office Cleaning
Commercial office cleaning covers complex tasks.

Commercial office cleaning is the best way to deep clean an office space.

Commercial office cleaning has flexible scheduling. It's tailored to meet the unique needs of your office.

Commercial office cleaners have professional-grade equipment and better cleaning products than retail products.
Our Commercial Office Cleaning Services
At RBC Clean, we will provide the following commercial office cleaning services:
Daily to weekly commercial office cleaning services

Carpet and upholstery cleaning

Window cleaning

Floor refinishing

Hard-surface cleaning

Post-construction cleaning

High-level cleaning
What is in-house cleaning?
In-house cleaning is when the business has their own staff to complete everyday cleaning duties and normal maintenance operations. Typically, in-house cleaners focus on simpler cleaning tasks that keep your workplace clean and well-maintained on a regular basis. Essentially, their job is to keep your office looking its best for guests, clients, business associates, and employees.
Going in-house can come with some challenges including coverage for holidays, vacations, or sick days, providing training to your staff, purchasing supplies and cleaning equipment, maintaining equipment and completing repairs, plus the supervision and management of staff.
How often does your office need janitorial services?
A janitorial service company focuses on the everyday cleaning and maintenance essential for normal operations. Consequently, janitorial services are typically scheduled far more frequently than periodic services. 
That being said, every company has different cleaning needs and, therefore, a different optimal cleaning schedule. Some offices require daily janitorial services, while weekly or bi-weekly works better for others. There's no one-size-fits-all approach.
A professional cleaning company, like RBC Clean, is flexible to your needs and expectations. We offer flexible programs tailored to each client. Plus, we provide assistance at all times of the day or night, whenever is best for you.
4 Advantages of Janitorial Services
Janitorial services are responsible for the essential cleaning tasks required to keep your office operating normally.

Janitorial services are on standby for emergency cleanings. As a result, they play a key role in workplace safety.

Janitorial services can be tailored to your office's needs and schedule. This includes daily, weekly, bi-weekly, and night services.

Janitorial services free up employees' time since they no longer have to worry about excessive cleaning.
Our Janitorial Services
Here are some of the janitorial services provided by RBC Clean in Toronto:
Sanitization and disinfection cleaning

Washroom cleaning and disinfection

Common area and lunchroom cleaning

Hard-surface floor cleaning and mopping

Vacuuming

Office area and workstation cleaning

Dusting

Garbage disposal
How to Choose Between Office Cleaning and hiring Janitorial Services and Commercial Office Cleaning Professionals
Janitorial services are essential for keeping your office clean and presentable on a regular basis. Without the help of a professional janitorial company, you will struggle to stay on top of office cleaning and maintenance. The appearance of your office will suffer. When that happens, making a positive first impression with guests and clients becomes nearly impossible. Plus, your employees will not be happy.
On the other hand, commercial office cleaning services are crucial for your office's long-term maintenance. You may think you can get away with never cleaning the carpets or upholstery, but that's just not the case. Dirt, dust, grime, bacteria, and mould build up over time, having devastating consequences for employees and visitors.
So, with all that said, what is more important, office cleaning or janitorial services and commercial office cleaning?
Frankly, all are needed. Office cleaning can handle the daily messes, while janitorial and commercial cleaners tackle more detailed, thorough, and deep cleaning. These services work best in conjunction with one another. 
Fortunately, most professional cleaning companies offer office cleaning including janitorial services and commercial office cleaning. This makes it easy to schedule cleaning services so that the janitorial and office cleaning staff work together to accomplish the much larger goal of a well-maintained, hygienic, and attractive office.
Janitorial Services and Commercial Office Cleaning From RBC Clean
At RBC Clean in Toronto, we provide janitorial and commercial office cleaning services. We understand the importance of a positive first impression with clients and guests, as well as the need for a hygienic place for employees to work. That's why our team is dedicated to working hard, using the latest cleaning technology, and listening to your needs to deliver unparalleled facility maintenance. 
For 65 years, we have been Toronto's top choice for janitorial and commercial office cleaning. Contact us today to learn more about our many excellent services, including floor refinishing, carpet and upholstery steam cleaning, window cleaning, and many more.
To learn more about our specialty cleaning services in Toronto, call RBC Clean at 866-278-8208 or contact us here.