Office Organization Hacks You Should Use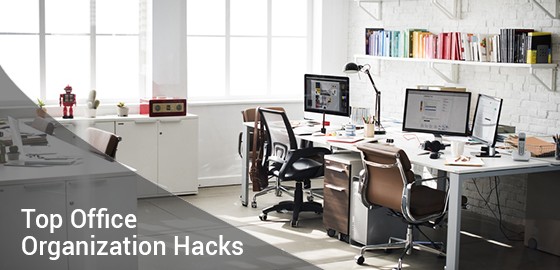 Spring is fast approaching and that means one thing: spring cleaning. Some people dread this, others relish it, but one thing is for certain, anyone who successfully tackles their spring cleaning is guaranteed to feel much better about their space. If you are feeling a little disorganized in the office and are looking for some advice this spring, below are some spring cleaning tips that will help you organize your office.
Find a Better Place to Put Your Phone
This is a multi-pronged spring cleaning attack because not only will it eliminate clutter, but it will also make you and your employees less distracted while at work. Many offices are implementing a no phone while on the job policy so that efficiency is maximized. Instead of having a bunch of ringing and buzzing phones all over the place at all times, get those phones out of the way, and into a jacket pocket or desk drawer.
Reformat Your Hard Drive
With so much of what we do and what we store now totally digital, business spring cleaning has also come to mean cleaning out your hard drive and desktop. A desktop cluttered with icons and files, and a hard drive that is not running at maximum capacity is going to make doing work and staying organized that much harder. Take some time to ensure that your computer is neat and tidy and not bogged down with useless files and information.
Purge the Paper
With the rapid fire pace of your business, it might seem like auditing your paper all year on a daily basis is an impossible task. After the winter, however, spend a little bit of time going through your office and deciding what paper is really fundamental to your business. Useless piles of paper everywhere make things feel cluttered and disorganized. Scan and keep what you need to, but don't just assume every sheet of paper is useful.
Add Some Plants
While cleaning and purging, you can also make some additions during your business spring cleaning. There have been studies done that show that adding some plants and some greenery to an office space can end up increasing productivity by around 15%. Spring cleaning is ultimately about making you more productive, after all.
Business spring cleaning is something that all employees, including you, should be encouraged to participate in. Let people know why you are insisting on the spring cleaning, or if it's just a home office, understand what you are doing for yourself, and start the new year off organized, and operating at full capacity.