The Benefits of Hiring Professionals to Clean Your Office Furniture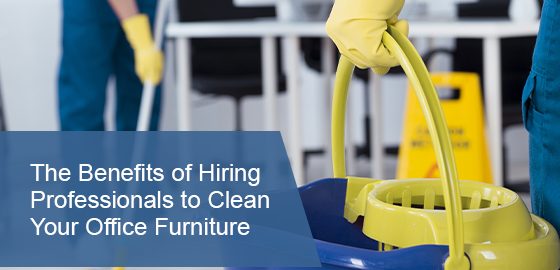 Now more than ever, and especially in the midst of today's climate with COVID-19, employees and clients value reliable cleanliness in an office environment. Not only is it imperative for the health and safety of the workers, but it is also one of the defining factors of a company's reputation and brand. Professional office cleaning services should be thorough, effective, and sure to get the job done right the first time around.
Instead of delegating employees to do extra cleaning tasks or doing the job yourself, it is a great idea to plan on hiring a professional cleaner. Cleaning companies come prepared with the proper supplies and manpower to handle any messy situation. If you want your workplace to be healthy, productive, and happy, then read on to find out more about professional office cleaning services and what it can do for you and your business.
Save Time and Get It Done Right
In any office environment, you can't expect your employees to be and do everything. Likewise, you can't properly run a business if you can't dedicate time and energy to your tasks. When you don't have professional cleaning services in a workplace, you run the risk of taking valuable work time away from employees. Either you or they will have to shoulder the burden of taking out the trash, cleaning common areas, washrooms, vacuuming carpets, and more.
Avoid this situation altogether by hiring a professional cleaning company that is reliable, reputable, and safe. It will save you and your employees' time and effort, and it will guarantee that the important job of cleaning and sanitizing is done correctly, ensuring no corners are cut. This way, you can rest assured that the workplace will always be clean, disinfected, and ready for employees to start the day stress-free.
Clean Upholstery Safely and Properly
Upholstery, chairs, and office furniture can be expensive and difficult to maintain depending on the fabrics and materials they are made of. Not every fabric is created equally and, therefore, you shouldn't be cleaning all your furniture/fabrics in the same manner. Some pieces require more special attention than others. With a professional cleaner, you get what you pay for in terms of quality, knowledge, and safety.
Real professionals will understand how to clean different types of materials and remove stains properly, without causing further damage to furniture. Those who are inexperienced could end up using improper cleaning solutions or methods that cause more harm than good. Invest in a good cleaning company from the start and you can come away with the peace of mind that the cleaning practices in your workplace are safe, effective, and not a one-size-fits-all approach.
Make Your Furniture Last
Not only will your furniture, carpets, and upholstery be cleaned properly and thoroughly by a professional cleaner, they will also stand the test of time when maintained this way. This means that you can save money on having to regularly replace furniture that is stained and damaged. Because your furniture will be properly maintained by a professional, it will more likely stay looking clean, new, and up to standards.
With great looking office furniture, your workplace will attract employees and customers and help them feel comfortable. Employees will enjoy a clean, clutter-free environment with no bad odours or dust in the air, thus benefiting their mental health and increasing their productivity levels. After all, ensuring that employees feel safe, healthy, and productive while at work should always be a top priority for employers.
Breathe Better and Feel Great
If your workplace hasn't been thoroughly cleaned by a professional in quite some time, then there's a good chance your employees can tell just by the smell. Having a foul odour in the workplace is never good for any company's reputation or for the health and well-being of the workers there. While air freshener can only do so much, sometimes you just need a good old-fashioned thorough cleaning.
With the help of a professional cleaner, your office can be spick and span again in no time, and back to smelling fresh and new. A professional office cleaner can also get all the dust and allergens out from office furniture that's been lying around, so that it doesn't pollute the air and cause employees to feel sick. Your workplace will smell great, harbour much less dust, and have an overall better air quality.
Ultimately, it's important to remember that time is of the essence when you're running a business. Like any busy entrepreneur, you want your and your employees' time to be put to the best of use for the benefit of your brand and business. Leave cleaning and sanitizing to the professionals and spend more time focusing on your business goals and building relationships with your customers.
Need Your Office Furniture Cleaned? Contact RBC Clean
For more information on office cleaning and janitorial services, please call RBC Clean at 1-866-278-8208 or contact us here. Here at RBC Clean in Aurora, we are proud to serve a range of clientele in the GTA and Southern Ontario. We understand the cleaning needs of businesses and can walk you through any of our services.