The Importance of High Level Dusting and Vacuuming Your Office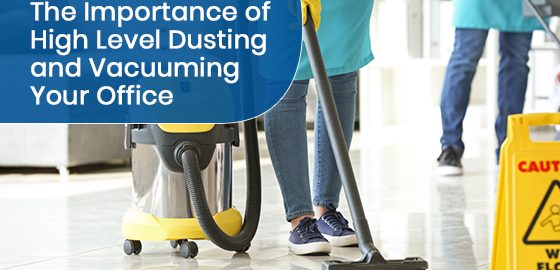 Cleaning and maintaining a safe, clutter-free environment is extremely important for business owners and property managers alike. When visitors or clients walk into your establishment, one of the first things they will notice is the cleanliness of the workplace. This is not only their first impression, but an indicator of how trustworthy your business is.
A good employer will always make their workplace a clean and healthy environment for other employees and customers. When cleaning your office, it's important not to neglect areas that may be out of reach, such as the ceilings and shelves that are at high levels. High level cleaning services ensure these areas that are difficult to reach are thoroughly cleaned in a safe and effective manner.
What is high level dusting?
Essentially, anything higher than arms reach for a person standing on the ground requires high level cleaning services, as normal cleaning procedures will not be able to reach these heights properly or safely. This can include the vacuuming, dusting and cleaning of vents, ceilings lights, fans, pipes, HVAC systems, and more. In order to reach areas at this height, you will need to hire special cleaners who are certified and able to operate lifts for cleaning at high levels. Keep in mind that neglecting these areas can cause build-up of dust, dirt, and bacteria, which can negatively impact your work environment.
Dust in the Air
Dust from high-up, hard-to-reach places can accumulate very easily and cause allergens and bacteria to circulate through the air. Debris, dust, and dirt from vents and ceiling fixtures can land on surfaces and end up polluting your office and irritating your employees. You might even find that no matter how often you wipe down surfaces such as desks and countertops, dust just keeps piling up. In this case, the answer could be that the dust is falling onto these surfaces from higher up.
It's important that you consider this when formulating a cleaning plan for your workplace. High-traffic areas are often easy to overlook, so remember to take a closer look at yours the next time you visit your workplace. These areas should not be neglected, and must be cleaned regularly to avoid dust, dirt, and debris settling in the air or falling onto surfaces and into tight spaces.
Maintain a Clean and Attractive Space
With high level cleaning services, not only are your employees happy and healthier, but your office will be attractive to new customers and more aesthetically pleasing. This will help bring in more revenue and add to the allure of your business by giving your company a good reputation. By now, you already know how important it is to maintain your workspace and keep it neat, tidy, and free from too much clutter. Adding in high level cleaning services is just another piece of the equation when it comes to keeping a good-looking space overall.
Disinfecting After Cleaning
While it's important to dust and to vacuum afterwards (to get rid of dust entirely), it's also necessary to wash, wipe, and disinfect surfaces to get a properly thorough clean. Remember to choose products that will disinfect your surfaces so that bacteria and viruses are killed upon contact. Always read the labels on your cleaning products and follow the manufacturer's instructions.
Hire Qualified Professionals
When it comes to high level cleaning such as dusting and vacuuming, you will need to hire qualified professionals who know what they are doing. It is risky to have anyone else cleaning or accessing these hard-to-reach areas. Always do your research on any potential cleaning companies, and don't be afraid to ask questions before committing to a cleaning schedule.
A professional cleaning company will be able to answer any questions you may have about the types of products they are using and their intended cleaning methods. It's your responsibility to keep your staff safe and healthy, and to ensure a positive work environment. Make it easy to do the right thing by hiring professional cleaners who maintain excellent standards and never cut corners when it comes to thorough cleaning.
When it comes to office cleaning, make sure you have all of your bases covered. Your employees and customers will thank you for providing a safe space for them, and ensuring their health and safety is your priority. For more information on high level cleaning in Toronto and professional janitorial services, please call RBC Clean at 1-866-278-8208 or contact us here.
Our team of professional cleaners are ready and willing to help you keep your workplace clean, without any hassle to you, your customers, or your employees. Contact us today to get started.