The Newest Office Cleaning Technology and How It Affects Your Business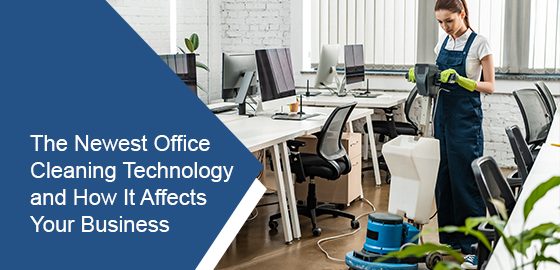 Cleaning has probably been around since the time of cave-dwelling and our primitive human predecessors. Of course, back then, it probably looked more like sweeping dirt out of a hut rather than pulling out bottles of disinfectant spray and wiping down complex furnishings.
However, for a task so fundamental to the human condition, and one that nearly everyone in every culture has done at some point, the media image of cleaning is almost always simplistic and old-fashioned, picturing housewives and husbands on their hands and knees with sleeves rolled up.
Thankfully, this image is outdated. In fact, for companies who want to stay on the cutting edge of every part of their business operations, there's a whole frontier of new cleaning technologies that provide significant gains and advantages. Join the future today with RBC Clean.
Data-Driven Tools and Smart Tech
Naturally, some of the innovations in cleaning stem from the wellspring of many advances in recent times. This includes the rise of technology, data analytics, and smart devices capable of predicting and supporting your every move.
In the cleaning world, this looks like data-driven tools based on the framework of the Internet of Things (IoT). Basically, they can provide overseers with real-time data about the status of dispensers of soap, paper, and towels. This streamlining means that issues with supplies and hygiene standards can be met immediately and tackled via aggregate dashboards.
On the smart side of things, keep an eye out for touch-free dispensers capable of monitoring hygiene compliance and new toilet paper tech that uses organic materials and doesn't clog pipe systems.
Communication Platforms
Another important aspect of the cleaning industry is the ability to interact with clients and make clear schedules and expectations.
Over the years, to meet this need, a variety of platforms and tools have come into existence, streamlining communication between customer and service. Through email, it's possible to instantly get feedback from customers while giving those same customers insight into how the company runs and how best to get started with them.
The Rise of Machines
Leaving the intangible world of the Internet and its many revelries behind, the physical world is in the midst of heralding a new generation of machines. Companies have historically implemented machines that help their teams take care of the more mundane and simple activities.
Machines can both speed things up while also adding a layer of consistency and the ability to work continuously without breaks or slow down.
In the cleaning world, this might look like talking to professional suppliers who are innovative with their range of manually and automatically operated machines. Robots can be used to effectively clean floors and other places, and along with their improved efficiency and consistency, make for a hard-to-beat value proposition that truly changes the cleaning industry.
Cheaper Pressure Cleaners
Not every business will need these. However, for those who work in factories or plants, for example, the machinery being used can get really dirty and be challenging to clean. Even the parts that are easy to access require heavy-duty work to get them as good as new, and will likely be too time-consuming for your team to deal with on top of their regular duties.
Luckily, there's a much easier alternative: high-pressure cleaning. It's versatile, and can be used indoors and outdoors as needed. More importantly, recent years have seen a notable leap in how exact and convenient these cleaners are, making them easier than ever to roll out for some heavy-duty cleaning.
Their chemical range has also expanded, allowing for even more quick and effective environment cleaning. The best part is that this is a wise long-term investment, as you'll be able to extend the lifetime of your machinery while increasing effective performance.
Environmentally-Conscious Cleaning
With climate change threatening global catastrophe in the near future, it makes sense that businesses increasingly want to be as environmentally conscious as possible. Towards that goal, efforts can be made to find eco-friendly cleaning suppliers.
Though not completely new, the innovations are continuous, with more eco-friendly services and materials being offered than ever before, like the aforementioned organic waste toilet paper.
Streamlined Service Access
For the customer, it's easier than ever to find the cleaning services they need. A quick Google search can pull up a list of more cleaners than you'll ever need to use. However, with this rise in convenience is an increase in expectation from what you should be getting from cleaning services.
Keep an eye out for cleaners that make their processes as seamless as possible to book a session and pay. Something that can be easily clicked or typed through is better, and rapid quote times are a definite plus to watch for.
Also, make sure that payment options are suited to your needs, whether that means online through PayPal or the good old-fashioned cash in hand.
Electrostatic Sprayers
A more concrete change that can be implemented is electrostatic sprayers. By using positive chargers on disinfectant, the fluid it sprays disperses more evenly and adheres better to the surfaces you want to target.
As well, it's much faster than traditional disinfecting, with a better range of coverage, while simultaneously being safe for humans and electronics alike.
Closing Thoughts
Embrace the tides of change before they pass you by.
New technological innovations are constantly on the horizon, and the world of cleaning is no different. If you want to be cutting-edge in all your business operations, solid cleaning suppliers are an important part of the puzzle. Whether it's electrostatic sprayers, smart devices, or machines, there are almost certainly ways for your business to refine its practices.
For help using the newest technology in cleaning your office, reach out to one of the best office cleaning companies in Toronto: RBC Clean. We can be contacted at 1-855-493-9259 or through our cleaning services page here.