The Ultimate Office Cleaning Checklist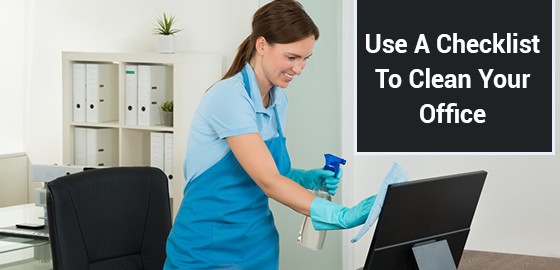 The winter is coming to a close and it is time to break out those spring cleaning supplies. You've got your house planned out, but what about the office? Business spring cleaning is just as important as spring cleaning your home, maybe even more so, as it's the space where you make your living and pay the bills. A clean office has been proven to increase productivity and make work more enjoyable. Below is the ultimate office cleaning checklist.
Entry and Foyer Area
Start your spring cleaning with the entry and foyer by sweeping and washing the exterior entry, including washing the glass, doors and frames. Give the foyer furniture a good dusting, and vacuum the foyer carpet.
Floors
Remove any loose paper or other litter that may have accumulated and/or fallen out of pockets, briefcases etc. The entire floor should be vacuumed, with any tile floors mopped, swept and buffed.
Bathroom
The floors in the bathroom should be swept and then mopped. The waste basket fittings and basins should be washed and disinfected. The mirrors should be spot cleaned, and wiped down with a squeegee. Urinals and toilets should be cleaned and disinfected as well. Remove any marks or scuffs from doors and walls and make sure that toiletries are fully stocked.
Kitchen
Sweep and then mop the kitchen floor. Make sure that all taps and fittings are wiped down and disinfected. Sinks, backsplashes, bench tops and tiles should all be wiped down and disinfected. Spot clean the walls and all cabinetry.
Declutter
Most of the decluttering that goes on in the office will consist of collecting documents that need to be kept but are no longer of use, and trying to find space for them in existing filing cabinets and office storage. If there is simply no more room, you'll need to find somewhere to store them offsite, such as a self storage unit, or a warehouse storage option designed specifically for business document storage.
Windows
It is hard to understate the importance of clean windows when undertaking your business spring cleaning. Windows that allow in light and don't look dank and grimy provide a moral boost that will have you and your employees working at maximum capacity. Windows that you can barely see out of, especially if your office is surrounded by pleasant scenery, are to be considered an emotional and a financial burden.
Business spring cleaning is an important part of settling into your spring routine. You want to start the quarter on your best foot, and part of that process is making sure your work space is as conducive to work as possible. Keep the above business spring cleaning checklist in mind and work happy this spring.