Tips on How to Keep Your Office Clutter-Free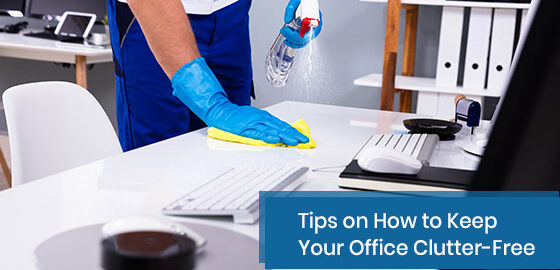 Now more than ever, it's important to secure a routine when it comes to keeping your office area clean and tidy. In order to keep a safe and healthy environment, you should be cleaning and sanitizing your office area regularly and keeping unnecessary items and junk to a minimum. This ensures that your office area is easy to clean and leaves fewer items available and open to the risk of contamination, and most importantly keeps your employees safe.
Now, this doesn't mean that you have to forgo personal and décor items altogether that employees keep in their desk areas. However, now is a good time to switch up your office space and do a complete overhaul to get rid of items that are just taking up room and serving no purpose. Below are some useful tips to make the most of your office cleaning and organization.
Designate an Area for Packages
With the hustle and bustle of everyday work and life, it's easy to lose track of exactly what's going in and out of your office. If you designate an area for incoming mail, packages, and deliveries, this will help you prioritize these items and keep them from cluttering your main space. It could be as little as a small entryway with a letter holder and shelves. Whatever the case, this will help divide and organize the space in your office so that you never have to second-guess where you put the mail again! It can also serve as a helpful reminder to open and organize the mail and packages you receive every day or every other day.
Keep Paperwork Organized
If you don't already have a filing cabinet or some sort of filing system in your office, this is one of the first things you should be doing. Nobody wants to work within eyeshot of a pile of papers, letters, and work documents. If you take some time out of your day to organize and properly file your paperwork, it becomes easier, in the long run, to know where things are and find documents in the future. You will also feel much more accomplished and organized, knowing that everything is in its rightful place. If you enjoy organizing, you may be inclined to take it a step further by using a colour-coded system, a label maker, or some colourful binders on a shelf that match with your office décor.
Regularly Clean and Sanitize Desk Areas
During the COVID-19 pandemic, it's especially important to regularly clean and disinfect high-touch surfaces, and this goes applies to your office as well. Your desk is an area that sees a lot of activity throughout the day and can be exposed to papers, mail, and other items from the outside world. Encourage your employees to wipe their desks every day with disinfecting or sanitizing wipes, and to disinfect their computer keyboard, mouse, pens, and anything else you regularly touch or come in contact with. An added bonus of doing this regularly is that it gives you the opportunity to evaluate what is actually on your desk and get rid of items and old papers on a regular basis.
Keep a Garbage Bin Handy
If you don't already have a garbage or recycling bin at people's desks, you may realize that trash and unneeded papers can pile up because there's only one bin to dispose of things. Employees might find themselves keeping a pile of trash at your desk throughout the day until you get the opportunity to throw it out elsewhere. As well, this limits contact as people have their own trash bins, instead of all using one bin and heightening their chances of coming in close contact with other employees.
Maximize Storage Space
Another office cleaning hack is to utilize all your available storage space, such as cabinets, drawers, and shelves. Once you recognize the storage that is available to you, it's easy to make use of it to keep organized. You will also want to keep small office items like paper clips, pencils, and staples tucked away in a drawer or in small containers. If you don't already have shelves, you can always add some so those office items can be stored there instead of on the main desk area.
Go Digital
Going digital and paperless is great for the environment and a good way to keep the office clutter-free. Another benefit is that it's much safer and secure to keep your documents only in digital format on a password-protected office laptop or computer. So, if this is a possibility for you, then why not? It's really a win-win situation.
It's important to manage your office space efficiently during these times so that you can keep yourself and others safe and healthy. Organizing and decluttering items in your office are the first steps to a thorough clean. For more cleaning hacks and information on professional office cleaning in the GTA, please call RBC Clean at 1-866-278-8208 or contact us here.
Keeping clean doesn't have to be hard work; we do the work for you! If you are a business owner, we understand your office cleaning needs and can help take the stress off your hands. Call us today, and we would be happy to provide you with a quick quote for our services.