Why It's Important to Increase Cleaning Frequency in the Workplace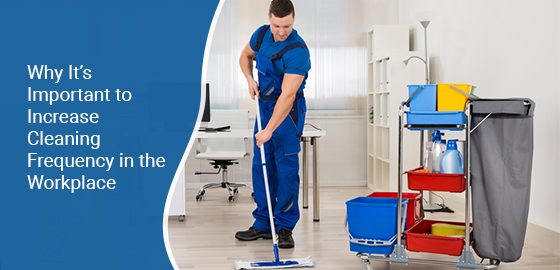 There are a variety of factors impacting Canadian workers right now, including the workspace environment. A clean environment is a healthy environment, and as an employer, you may be surprised to see how much cleanliness can impact your team's morale and productivity.
As a leader in commercial cleaning in Aurora, RBC Clean sees a plethora of Ontario offices, warehouses, and workspaces. Our job is to ensure your buildings are clean, sanitary, and usable so your team can work harder, happier, and healthier.
Being part of the commercial cleaning efforts in Aurora, we understand how important a clean worksite is, especially during these uncertain times when illness levels are on the rise. Here are some of the major reasons you should invest in professional cleaning services.
Pest Control
No matter how many traps get set, or how many exterminators are called, commercial zones are a prime location for pests. Industrial zones especially provide plenty of space for rodents, insects, and small animals to make themselves at home.
One way to deter pests is by maintaining cleanliness throughout your worksite. Frequent and consistent cleanings help remove odours, food debris, and other attractions that might draw unwanted visitors.
Some of the main areas which attract pests are:
Company break rooms
Cafeterias
Sticky floors
Garbage and compost bins
Wastepaper baskets
Bookshelves
Cupboards
Anywhere food, drinks, or even paper gathers, pests are sure to be drawn searching for sustenance and nesting materials. Ensuring garbage is regularly emptied, floors are swept and mopped daily, and all surfaces are wiped thoroughly will minimize the risk of pests.
Employee Morale and Productivity
It is important for employees to feel safe and healthy in the workplace. A designated break room is a great way to positively impact morale and productivity. However, large teams often share these workspaces, which leaves dishes, uncleaned microwaves, full trash bins, and bad odours. Hiring a team for professional commercial cleaning in the Greater Toronto Area controls the negative impact these messes have on your staff by ensuring the space is clean and fresh each day.
Your employees may also be impacted by other areas of office cleanliness, such as carpets that are not regularly vacuumed and window interiors that are left to mildew in the rain. Employees with asthma, allergies, and other respiratory conditions will find symptoms aggravated by dust, dirt, mould, and bacteria in the office, filtered from room to room through air ducts and foot traffic. Hiring a professional cleaning staff keeps carpets and window linings clean and clear, so your staff can breathe better and work harder.
General Order and Organization
As the workspace gets dirty each week from coffee spills, toast crumbs, paper shreds, outdoor dirt, and more, you may find the clutter increasing as well. This is a common problem in spaces that are not regularly cleaned. There are a few reasons for this correlation, but the biggest are:
1. Employees see the workspace as an area that is not cared for.  Therefore, they do not care as much about where they drop things or whether desks are organized.
2.  Stains and dirt deter employees from putting belongings and office supplies where they belong because they are too messy to use.
When you hire commercial cleaning in Markham, you will notice a big difference, not only in the office's cleanliness but in the order and organization of your space as well. A clean office is quicker to become a tidy office.
Reducing Bacteria Spread and Illness
With the news of a global pandemic raising havoc in Canadian worksites, it has become more important than ever before to ensure surfaces are sanitized regularly. The average employee will touch multiple surfaces, shake multiple hands, and touch their faces regularly. Surfaces must be cleaned more frequently, and proper sanitation guidelines are introduced to the office to reduce the risk of illness.
At RBC Clean, the pandemic has vastly affected how we view our role as commercial cleaning professionals in the Greater Toronto Area. We take our job extremely seriously, striving to maintain our clients' health and wellness by going above and beyond during our disinfecting and cleaning routines.
The government has provided instructions and guidelines for businesses that remain open during this time. These documents include information on regular cleaning routines, including the disinfection of surfaces, debit and ATMs, vending machines, light switches, door handles, and various other areas that are touched multiple times throughout the workday.
Managing Employee Fears
Along with the flood of information on COVID-19 and its effect on the Canadian workplace, there is a rising fear of illness in every industry. Employees are afraid to go to work and bring home the virus to loved ones. Regularly cleaning your worksite is a great way to show your employees they are safe and cared for by management. Hiring professional commercial cleaning in the Greater Toronto Area guarantees a higher level of clean than managing worksite mess on your own. This also offers peace of mind to your staff as they come into a fresh and clean workplace each morning.
As we strive to strengthen the Canadian economy during these troubled times, protecting our employees is crucial to this country's financial sustainability. Regular cleaning lowers the risk of contamination and viral infection for your staff and their families.
Contact RBC Clean Today
If you are encouraged to up your cleaning game and schedule regular cleaning in the future, we are here to help. RBC Clean is a leading commercial cleaning firm in the Greater Toronto Area, specializing in office spaces, warehouses, restaurants, shopping malls, apartment buildings, and more. Our team is well-versed on all the latest guidelines and protocols to protect and disinfect against COVID-19 and help you keep your team protected. 
Contact us at 1-888-278-8208 or fill out the contact form on our website for more information on our services or schedule a cleaning for your commercial property today.