Why Neglecting Office Cleaning Can Hurt Your Bottom Line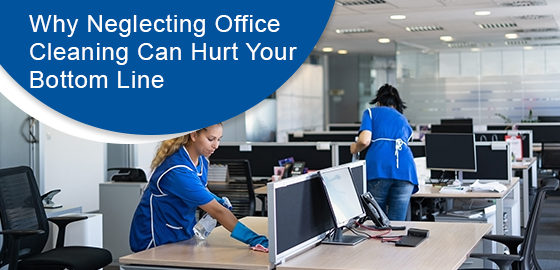 After COVID-19, cleaning and keeping a disinfected workspace has become more important than ever. 
Clients can easily tell when the cleaning standards of a business or store are not up to par. Not only will they actively avoid your business, but the word can get around quickly about the low-quality cleaning methods. 
This is why it's so important to set your business up for success by prioritizing a clean and clutter-free office. 
Not only is it essential for customer satisfaction, but it also helps to ensure that your employees are safe, happy, and healthy. 
If you are wondering or on the fence about professional office cleaning and janitorial services, look no further than our guide below. 
We will discuss the main reasons why neglecting office cleaning can hurt your bottom line and keep potential customers and opportunities at bay. 
Customer Satisfaction
Your bottom line correlates with your customer satisfaction. As long as customers are satisfied with your services, your business will continue to thrive and be profitable. 
Customers are a huge source of referrals, and word of mouth can travel a long way.
A clean, organized, and clutter-free office or business will help to give clients and customers a good impression. 
It will only add to their satisfaction and keep them returning for more. 
If, however, you neglect this standard, your customers will be reluctant to want to come back or even spend time at your establishment. Can you blame them? 
Employee Retention
All in all, employees want to stay where they are valued and prioritized. 
A clean office environment helps to let them know that you are keeping them in mind and that they can focus on their job without clutter and distractions such as dust or dirt in the air. 
Keeping your employees happy and free from distractions will save you money and effort, as you are less likely to lose good employees or be without sufficient staffing.
Foul Odours
If one thing can drive away customers, clients, and employees, it's a foul odour. Neglecting proper office cleaning can lead to odours in your carpets, curtains, and more. 
Old food in the kitchens can quickly go bad, and bathrooms left uncared for can become an absolute nightmare. 
Keep your business smelling fresh and clean so that your visitors can breathe a little easier when they walk in the door. 
Dirty Bathrooms
As previously mentioned, dirty bathrooms can be anyone's worst nightmare. A clean, well-kept public bathroom is a breath of fresh air for anyone who understands the urge to use one. 
Dirty bathrooms in your establishment give customers and employees the impression that you won't pay attention to their needs and the details when running a business.
They will equate your products and services with an image of your dirty toilet stall every time your business is mentioned! 
Avoid this problem by hiring professional help to keep your bathrooms fresh, clean, and always stocked. 
Dust and Allergens
When cleaning is neglected, dust and allergens can pollute the air and settle on furniture and desks. 
It can be a health hazard if left untreated for too long. Understand that your employees and customers may also have health issues such as asthma or allergies, which can exacerbate sensitivities to allergens. 
This will make your business uncomfortable for your guests, which is the last thing you want when trying to build a brand and reputation. 
More Sick Days
The dirtier your establishment and the more dust and allergens in the air, the more likely employees will call in sick. 
This is especially true if you neglect to disinfect surfaces regularly and sick people come in contact with one another frequently.
In turn, this will negatively impact your bottom line when your employees aren't showing up as frequently as you need them to. 
Be mindful of this issue and ensure that while cleaning, you are also sanitizing and disinfecting surfaces and other high-touch areas where people may be present. 
Less Productive Employees
Employees perform better when the workplace is clean, organized, and calm. 
Unsurprisingly, performance and productivity will be impacted if your workplace is disruptive, dirty, and disorganized. 
You want your employees to focus on their designated jobs, not on cleaning tasks that have nothing to do with their main duties. 
Bad Reputation
In sum, if your office or business neglects cleaning, you risk developing a bad reputation in your community. 
Don't be surprised when others notice and word gets around. If you want your business to grow and for people to provide great reviews about your services, keep your space in check and maintain cleanliness.
Fortunately, keeping a clean and organized office isn't something you have to do alone. 
You should be utilizing the efficient services of a professional cleaning company that can get the job done for you. 
No more worrying about who cleans where and asking your employees to do cleaning tasks outside of their job scope. Let a professional cleaning crew do things the right way. Your customers and employees will thank you! 
For more information on janitorial services in Toronto and the GTA, please contact RBC Clean at 1-866-278-8208 or contact us here. 
We understand what it takes to keep your office or workspace clean and to keep your customers happy. Never neglect office cleaning by scheduling some professional help. Contact us today for more information on how it can be done.