Leave Your Summer Window Cleaning to the Professionals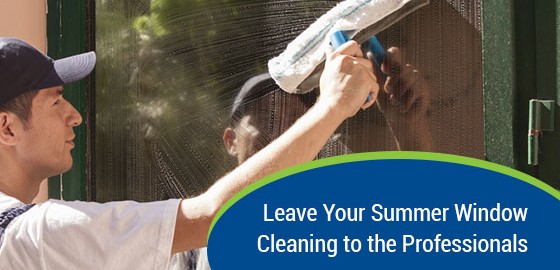 When the summer sun begins to shine, you want to take advantage of all that natural light. Throughout the winter and spring, your windows are exposed to dirt that build-up and block out some of that cheerful sunshine. The problem is, who has the time or even the inclination to give their windows a good, thorough cleaning? It's even worse if you have a home or building that is more than one storey, as getting to those windows is not only a pain but also dangerous.
Summer is the perfect time to look to the professionals to provide a window cleaning that will bring in more natural light and keep your property looking its best. Here are just a few reasons you might want to leave your summer window cleaning to the professionals.
The Right Tools for the Job
Professional window cleaners have access to the tools and cleaning products that will guarantee sparkling clean windows. They can address all types of windows whether they are everyday windows, or something a little more customized such as stained glass, frosted windows or windows with mirror or UV finishes.
Using the right tools is a must to get the results you want without causing damage. Even if your windows don't have unique features or finishes, a professional can get to areas you can't for a pristine clean you can't beat.
Professional Cleaning for Professional Buildings
Nothing scares away customers and tenants faster than a building that looks dilapidated and unkempt. As a business owner or landlord, you want your buildings to have a professional appearance that attracts customers and tenants. Professional window cleaning keeps your building looking its best for an excellent first impression.
Curb Appeal
Summer is the time houses start to hit the real estate market. If you are planning to sell your home, clean windows are a must. Professional window cleaners will clean every inch of your windows inside and out. Your windows will sparkle, more natural sunlight will fill your rooms and the frames and sills will pass the white glove test.
Longer Lasting Clean
Professional window cleaners use specialty products that will help keep your windows cleaner, for longer. For example, protective coverings can be used to prevent streaking from rain, so your windows keep their just cleaned look.
Extended Window Life
Caring for your windows helps them last longer. When dirt and debris are left to build up on your windows, it can cause scratching and leave blemishes that interfere with their efficiency. Because glass is porous, many substances that come into contact with your window surface — from dirt to the salt on your driveway and walkways — will erode glass over time. This can make glass weak which means it is more likely to break. Glass damage can also lead to discolouration that makes windows appear dull and affects the clarity and opacity.
If you tend to be a little more vigorous when cleaning windows you can also cause damage to the seals and frames. This can lead to issues such as condensation and leaks, leading to energy issues and even mould. It can also ruin the integrity of the windows by allowing warm and cool air to escape. This can be noticed on your energy bills.
Safety
Whether you are trying to clean the windows of a two- or three-story home, or an office tower, attempting to reach windows that aren't on the first floor is never a good idea. Professional cleaners can reach any window with ease and get to every corner of even massive windows for a streak-free shine. They also have insurance to protect them from injuries so your windows will be cleaned worry free.
Natural Light
Natural light helps us feel good and is also easier on the eyes. Dirty windows actually block out sunlight. We need sunlight in our home and office interiors for many reasons including:
Improved mood
Improved environment
Reduced chances for mould growth
Lower energy bills in the winter
One Less Thing
Let's face it, cleaning is one of those things most of us don't have the time to worry about. Windows are often left off our to-do lists because it takes up so much time and no one likes washing windows. However, washing your windows at least once a year is always recommended so you can help protect your windows and bring in more natural light. Professional window cleaners will take on the job for you so you have the clean windows you need without the added work on your to-do list.
Better Results
How many times have you climbed that ladder to clean your windows only to find when you get back inside you have left behind very noticeable smudges and streaks? This is because you have to be cleaning not only with the right tools and cleaning products but also from the right vantage point. If you are unable to reach your window surfaces with equal pressure, you can leave more streaks and smudges. Unfortunately, these marks are often not noticeable while you work.
Once you are inside, however, the light coming in through the glass shows off every missed spot and smudge. In many cases, this is even more noticeable than a completely dirty window! Professional cleaners will clean your windows properly so there are no streaks and smudges, no matter what angle you're looking at them.
Eco-Friendly Clean
Professional cleaners offer eco-friendly cleaning products that are good both for your indoor environment as well as the environment outside. Some window cleaning products in the store leave behind residue and fumes that can be breathed in or picked up on the skin when touched. When it rains, this residue on the windows outside can run off and get into the local water system.
Although these little things seem harmless, it all adds to pollution. Even mildly toxic runoff contributes pollution to local rivers and lakes, and can also seep into underground groundwater supplies. Working with professional cleaners who care about the environment will help protect your home, business and community from unnecessary pollutants.
Leaving your summer window cleaning to the professionals means one less thing to worry about so you can get out there enjoy the warmer weather.
For more information on professional window cleaning services, call RBC Cleaning at 1-866-278-8208 or contact us here.