Four Ways a Retail Cleaning Improves Customer Service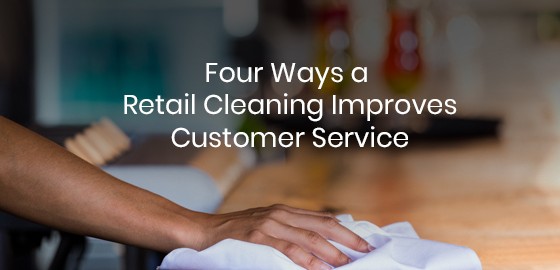 Any retail business can benefit from professional retail janitorial services, or retail cleaning. Successful clothing stores, grocery stores, and shopping malls, for example, provide an exceptionally clean space that keep customers coming back for the great (and relaxing!) shopping experience.
At RBC Clean we understand that owning a successful business is all about the customer experience and making a great first, and lasting, impression on everyone who walks through your doors. That is why we focus on providing you, the business owner, and your staff with the opportunity to focus on what matters most: growing and adapting your business without a worry. When RBC Clean handles your store cleaning, you can put your time towards helping customers, selling products, and more!
RBC Clean is a complete janitorial company offering service to commercial, industrial, institutional, and recreational facilities throughout Ontario. With over 60 years of professional experience, we are a clean team that you can trust to get things done right!
Want to learn more about how the services offered by RBC Clean can help improve your business? Below are four great ways that retail cleaning will improve your customer service!
1. Set a precedent
Customers will judge your store by how it looks like from the outside. If your window displays are a mess, the windows are dirty, and there is a thick layer of dust on your product, it is likely that many paying customers will pass you by.
It is no secret that most people are drawn to shops that rate high on the esthetics scale. Even before checking out the signage, people are drawn to stores that have clean shiny windows, polished floors, and neat entryways that suggest an uncluttered shopping experience. Unless you delegate time for staff to periodically evaluate the storefront throughout the day, your first impression marker may be marred by unknown negative factors. Therefore, it's your business to either create a checklist for employees to follow or hire a retail cleaner to make sure the job is done right the first time around. If you are unsure of what is needed to ensure a clean and attractive storefront, ask your retail cleaning company to help you create that much needed checklist. Remember, first impressions will keep those customers coming back.
2. Customers associate cleanliness with high quality products
People crave good quality when shopping for a product. And even if you have the best quality product on the market, if your establishment does not reflect the product, you will make less profit.
An unclean establishment can make people feel uneasy and, when customers don't feel comfortable, it is unlikely that they are going to stick around. However, if a business is properly cleaned and maintained, customers are more likely to spend money.
Customers associate cleanliness with quality, so the best way to promote cleanliness is choosing a cleaning product that makes your store smell fresh and clean. Having someone on your side who takes care of dusting the shelves, putting misplaced articles in their place, and cleans the bathroom does much for shoppers' morale. Seeing staff care for their environment speaks volumes and promotes a feel-good place. This is why retail cleaning should not be taken for granted.
3. Step outside the box
Hiring a retail cleaner allows you to focus on other elements of running a business, so why not get creative? Create a new campaign, design interesting window displays, and rethink your floor design. With cleaning out of the way, there is a work of possibilities for your imagination.
Not only does hiring a retail cleaner give you more time, if you aren't sure what you need to do to create a desirable shopping environment, then a professional cleaner may be able to give you some perspective. A professional retail cleaner can recommend improvements that will boost customers' first impressions.
A retail cleaning consultant will not only help you maintain your shop's look, but they will also ensure you have:
The right products to keep the look going during business hours.
Provide you with the proper cleaners and cleaning tools on a regular basis, thus eliminating emergency and costly trips to the store.
They can outsource special jobs to those companies better able to take care of the bigger cleaning jobs such as carpet cleaning.
Then, watch as your store's shopping desirability rating increases exponentially!
4. More time to create a customer experience
Perhaps the most important way retail cleaning improves customer service is that it allows you and your staff to focus on what's important: creating a meaningful customer experience for those visiting your business. Instead of cleaning the bathroom, your staff can be at the front of the store, smiling, and ready to greet anyone who walks through the door or helping customers in change rooms or about the store find their perfect product.
Having a retail cleaner shows both customers and staff what is important to you and it sets a standard for how you run your business. With a retail cleaner, it will undoubtedly be customer service oriented.
Want to improve the customer service experience of your loyal and valued customers? Look no further. Visit our website today to talk to a representative about the retail cleaning (and other offered services) today!