With plummeting winter temperatures, window cleaning in Markham can become a pending item due to the difficulty and/or danger of working outdoors in extreme temperatures and slippery conditions. Yet keeping up with your home or business window cleaning routine is essential to maintaining curb appeal.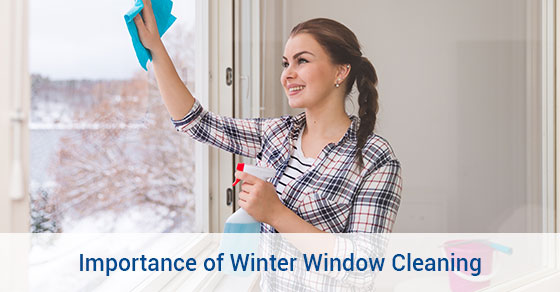 Thankfully, professional window cleaning services in Markham are available year round to help you maintain the look of your commercial or residential building, especially during winter. Here are a few reasons why you should keep up with your routine window cleaning:
Make The Space Look and Feel More Attractive
When you get your windows cleaned professionally, there is a huge difference that is clearly noticeable to your friends, neighbours, and especially real estate buyers if you're looking to put your property on the market. When you hire a professional window cleaning team, they will first clean the exterior of the windows, and then move to the interior. They will also clean the borders and screen.
Professionals get the work done whether it rains or snows. Many people assume that rain affects the final result of windows being cleaned, yet this is not true. If a dependable cleaner washes your windows in the rain or snow, they will still be as clean as they can be. Though a reliable cleaner may prefer to postpone the cleaning job if the snow, ice, or heavy rains make the job unsafe, or make your property inaccessible. Which means that prospective buyers or photographers won't make it anyway.
Let in more Light – Increased Energy Efficiency
Clean windows let more natural light into your home or business, which minimizes your reliance on artificial light and lowers your heating costs. Dirty and grimy windows tend to block the sun's radiation and prevent it from warming up the area inside your home. If you don't take advantage of sunny days, your heating costs will continue to increase as you work your furnace full-time to maintain comfortable temperatures.
Keep your Merchandise Visible
Many retailers, restaurants, and other businesses have large glass walls to allow potential customers to view their merchandise or ambiance and attract them. Great window displays are an important marketing feature for many businesses. In fact, studies show that even stressed and cynical shoppers can be influenced by magnificent displays.
Professional window cleaning can help keep your windows crystal clear even in the adverse winter weather conditions, allowing your target customers to view your amazing displays and hopefully become buyers in your establishment. Dirty and poorly maintained windows, on the other hand, are unattractive and likely to turn off potential clients, causing them to think that your store is rundown or just not worth venturing inside.
Moreover, being able to look out the windows helps you relax as you stare into the distance, wait for a friend to join you, or just to check on your vehicle parked outside.
Maintain Window and Frame Integrity
With dirt, grime, snow, and ice all constantly beating against the windows on your residential or commercial property, they begin to compromise the integrity of your windows, the casing, and window frames. As the snow against your windows melts and refreezes in a cycle, it can take a toll on dirty windows, causing them to wear faster during winter than any other time of the year.
Thoroughly cleaning your entire windows, including the casing and frame helps to reduce the risk of increased wear and untimely damage, saving you from the inconvenience of broken or dishevelled windows and repair and replacement costs.
Get Rid of Small Insects
Bugs, spiders, and other small insects tend to hide in tiny cracks and spaces that are seldom attended to. Cleaning all areas of your windows, including the window screens that can be particularly dirty is a great way to get rid and prevent insects from taking shelter in your home.
Safety and Convenience
In addition to the weather being wet and windy, there are many types of windows in both commercial and residential properties that need different cleaning techniques. It is the responsibility of professionals to know the ins-and-outs of each type of window, especially when working on high windows, to know how to safely manoeuvre your way to the extremes. This is achieved through continuous training on different window cleaning techniques and keeping up-to-date with new, safer, and more convenient supplies and equipment.
Here are some safety issues that professionals are unlikely to overlook:
Drips when cleaning a skylight
Slippery hardwood and tile floors when using a ladder
Expensive furniture and other valuables
In addition, professionals work as teams of two or more people to ensure that the work goes smoothly and efficiently, and that help is available when needed.
Benefit from addon Services
Professional window cleaning is a rather competitive business. To win contracts. maintain a loyal clientele, and encourage referrals, many companies offer add-on services at a discount because they already have the tools to do it, such as:
Power washing
Screen cleaning
Gutter cleaning
High ceiling cleaning
Cleaning ceiling fans
These services are generally not part of normal window cleaning. But since they have ladders and other cleaning equipment, you might as well pay them extra to handle these things, meaning that you get more professional work for less.
It's Hard to Clean Windows in Winter; But not for Professionals
Winters in Markham generally experience less rainfall in winter compared to spring or fall. Because of snow cover, there's also less dust than other times of the year. This generally means that your windows will stay cleaner for longer after they're professionally cleaned.
That said, winter is arguably the hardest time to keep your windows clean, which can allow dirt, salt, and grime to accumulate and increase the risk of etching and damaging the glass. The weather is almost always rainy and windy, with some days of snow, ice, or heavy rain that increases the risk of slipping. High winds can be particularly dangerous when using ladders or long extension poles for outdoor cleaning.
Moreover, the extreme cold conditions cause the glass to contract and likely to crack if the wrong products, tools, and techniques are used for winter window cleaning.
When working with professional window cleaners in Markham, you can have peace of mind that you will enjoy the benefits of clean windows without the risks of window cleaning in winter. But make sure to work with professionals who are insured and bonded, and offer customized window cleaning procedures to suits your needs, whether it's a single-storey residence or multi-level commercial building.
Safety and satisfaction are important, so let the professionals take care of it. Call RBC Clean today at 289-800-7694 or contact us here for more information.