The Importance of Winter Window Cleaning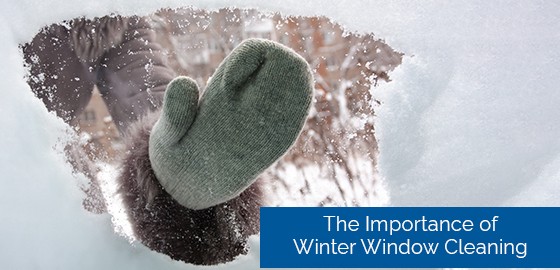 It's important to keep up window cleaning over the winter, or else grime and debris will take over and obstruct sunlight from pouring into your building. There are certain things you need to know about cleaning windows during winter, so we'll outline those points to remember.
Glass Acts Differently In Cold Weather
You may remember from chemistry class that some substances contract in freezing temperatures. Glass is one such substance. Cleaning glass improperly during the winter can cause cracks or surface damage, which will lead to an expensive window replacement bill.
It takes professional grade products, tools and knowledge to clean windows safely and effectively during the winter. Entrust your windows to the professionals during the colder months; it'll be worth the investment.
Dirty Windows Mean Drab Interiors
There's no better light source than natural light—just ask any photographer. There's something about natural light that makes everything look softer and fresher.
For your rooms at the office, natural light is illuminating and flattering. Utilizing natural light as much as possible also cuts down on your lighting and heating bills. Dirty windows impede natural light, making your rooms look darker and duller than they should. Imagine having to turn your lights on in the middle of the day because your windows are covered in gunk!
No Sunlight = Bad Mood
Seasonal Affective Disorder (SAD) is a very common mood disorder that comes about from a lack of sunlight. When not enough sunlight hits our skin, it can be hard to feel energized or happy. SAD affects people in northern climates especially, due to our short days and long nights during winter.
If you're in your home or workplace, you need as much of that natural sunlight to be streaming through your windows and hitting your face as possible. You'll feel a major difference in your mood if you take a moment to soak up the sun. Good luck trying to bask in the sunlight with dirty windows!
Businesses Need Clean Windows
Business doesn't stop for winter! If your windows are looking dirty, customers might think twice about entering your store. You only get one shot to make a first impression on your customers.
A clean storefront is very welcoming to new customers, or foot traffic passing by your business. It clearly shows that you take pride in your store. If the outside is clean, chances are the inside is clean too. People don't want to enter a dirty business. Sparkling clean windows give an immediate impression that your business is well maintained.
Windows Stay Cleaner Longer
There tends to be less dust in the air during winter. That means if you have your windows professionally cleaned they'll maintain their cleanliness. If you have large windows for a storefront, the bottom of the window may still be affected by dirt and slush kicked up from the street. Still, it's better than having one giant dirty window!
You Can See Out Better
While it's important to be able to see in through windows, it's equally important you can see out. Seeing out windows is a matter of safety. Visibility is greatly reduced if your windows are covered in dirt, debris and residue from past cleanings.
Moreover, you'll want to see the beautiful views of wintertime! If you live in Aurora, Newmarket, Markham, Richmond Hill, Vaughan or Toronto then you likely have stunning views of nature and skylines. Don't let dirt and grime obstruct your views!
Main Benefits Of Cleaning Your Windows In The Winter
Keeping your windows clean means a brighter building, lower electricity bills, better visibility and an overall nicer look. If you're a business owner, you can't afford not to have clean windows over the winter. Customers are looking for a warm respite from the cold outdoors. Clean windows give that welcoming image and indicate you take good care of all aspects of your business. Clean windows can even help keep you more cheerful over winter, letting bright sunshine in to perk your spirits up.
It's important to find the right professional window cleaners to do the job right. Improper cleaning solutions, tools and techniques will do damage to your windows and could even damage them irreparably. If you're looking for the best window cleaners in Aurora, RBC Clean is the way to go.
Looking for window cleaning in the Aurora area? Professional cleaners can tackle tough cleaning jobs and keep your place looking impeccable. Call RBC Clean at 1-866-506-9736 or visit our contact page here.