Floor Refinishing Services
Floor Refinishing Specialists Toronto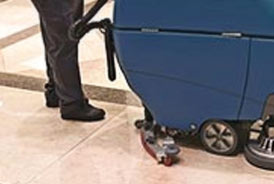 Royal Building Cleaning can restore the brilliance and shine to many floor types.
Vinyl composite floor stripping and waxing
Ceramic deep scrubbing and grout detailing
Tile and grout steam cleaning
Autoscrubbing and Resurfacing
Vinyl composite tile (VCT) flooring requires sealer and finish to protect the floor, enhance the appearance, and help maintain a clean facility.
Regular maintenance will make your facility look its best
Over time the floor finish will wear down, become scratched, scuffed, and harder to clean.  We can provide machine scrubbing to clean the floor, remove mild imperfections, and then apply additional floor finish to restore the shine and protection.
Discover a schedule that fits your facility and budget
There comes a time when a complete strip, seal, and refinish is required to restore your VCT flooring to its original appearance.  Though this process will not correct deep scratches or damaged tiles the remainder of your floors will look like new.  Facility requirements will vary however we typically recommend this process at least one time per year.
We can design a floor maintenance program to keep your floors looking their best. This may include a variety of services including buffing, burnishing, scrubbing, and complete refinishing. Contact one of our representatives today to consult the needs of your facility.
You will be amazed with the results our professional team can achieve. Let us show you the Royal difference!
Back
Request Info
Latest Blog Post
May 14 | 2018
Did you know that providing a clean work environment is as important for your business's profit margin as generating sales is? There have been numerous studies backing the psychology of its importance. Hiring the right commercial cleaning and janitorial services for your company will help endorse your company as a healthy, efficient work environment and in terms of simply professional appearances. Endorse a Professional Appearance Impressions matter, and capturing a desirable first impression for anyone who steps into your company is crucial for your brand. After all, your company is…
View All
FAQ
Royal Building Cleaning can provide products and our team will monitor the inventory of products required for your facility and complete orders as required. This allows your own staff to focus on other important aspects of your business.
View All