INDUSTRIAL CLEANING SERVICES TORONTO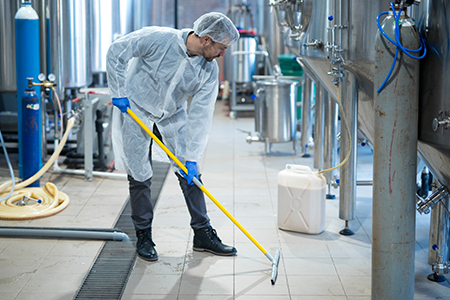 Industrial facilities, especially those which contain manufacturing areas, often come with unique cleaning needs that require professional attention. Maintaining a clean and safe work space is part and parcel of caring for and maintaining industrial space and Royal Building Cleaning understands this better than most. We have been working with the Greater Toronto Area's industrial facilities for over 60 years, helping to ensure they are running at full capacity and that equipment and employees are always able to do their jobs in a clean, comfortable work environment.
Our Industrial cleaning Services Include:
Common Areas, Entrance Areas and Public Areas
Equipment and Workstations
Warehousing
Lunchrooms and break rooms
Restrooms, Locker Rooms and Shower Facilities
Hard and Concrete Floors
High level vacuuming and dusting
We are also able to offer our industrial clients additional specialty cleaning services preparing an industrial site for tours or visits from corporate headquarters, visiting clients, audits etc. We are ISSA certified as well as fully bonded, insured and current with all WSIB clearance compliance. We understand that there is an additional level of meticulousness required when cleaning industrial facilities and we always bring an unparalleled level of competency and professionalism to every industrial facility we service. We have been servicing the GTA's industrial facilities for over 6 decades and we have built our reputation on this. Our management and supervisors have extensive experience in the industry, so when you do business with RBC, you can rest assured you are dealing with skilled professionals. RBC's cleaning professionals deliver our industry-leading cleaning services to all corners of the GTA. We service one of the widest ranges in Southern Ontario. When you hire Royal Building Cleaning, you get a fully customized industrial cleaning schedule that fits your operational needs. No two of our industrial clients are exactly the same, so you are free to design your cleaning services with us in whatever way best suits your business needs. Whether you require daily, weekly, bi-weekly or monthly services, our account managers will work with you to design something that satisfies all your requirements. You can be sure that Royal Building Cleaning uses only the highest quality and effective industrial cleaning products to tackle those tough industrial jobs. We are also company that is dedicated to minimizing the negative impact we have on the environment. This philosophy is incorporated into the products we choose to use and sell. We also provide our industrial clients with the opportunity to participate in our RBC Green program, providing them with an opportunity to conduct business in a manner which is more environmentally conscious. Call Royal Building Cleaning today at 888-463-5555 or 905-294-3311. Our office hours are Monday to Friday, 8:30AM-5PM.