Residential Maid Services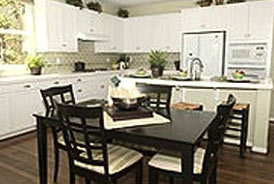 We offer a completely customizable residential maid service. We can provide service one time only or on a regular schedule to maintain the cleaning of your home. Our teams can perform general cleaning throughout all rooms of your home including dusting, vacuuming, sanitizing, sweeping, and vacuuming.
The frequency of our service is up to you however many customers prefer weekly or bi-weekly cleaning services to maintain their homes. We can also provide all cleaning supplies and equipment necessary to complete our service so you don't have to worry about running to the store or keeping stock of cleaning items in your home.
Our dependable and friendly teams are there to make your life easier. Contact us today and enjoy more of your day!
Back
Request Info
Latest Blog Post
September 10 | 2018
Your appearance can go a long way in getting you that coveted job, long overdue promotion, or even your first million-dollar business deal. Hard as it may be to learn, in this world of glitz and glamour, appearance is one of the keys to leap-frogging from being a nobody to somebody. However, all your hard-won success and those ideas may come to nothing if you have a less-than-impressive work setup. Piles of paperwork, scattered office stationery, ill-placed office décor accumulating dust, and grime and grease in forgotten nooks of your…
View All
FAQ
Royal Building Cleaning provides cleaning services to all types of facilities including commercial, industrial, recreational, institutional, medical, condominium, retail, restaurant and food service companies. We also provide cleaning services to government facilities including municipal offices, libraries, and recreational facilities, ...
View All