Residential Cleaning Services Toronto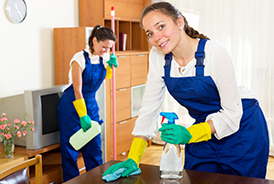 We all strive to maintain the cleanest home possible, both for ourselves and for our family. With all the responsibilities we have in our day to day schedules, we can't always find the time to clean as much as we would like to. Most of the time that deep cleaning we would like to get to once a week, or once every other week can be exhausting. That is where a company like Royal Building Cleaning comes in. Royal Building Cleaning will provide your home with the TLC that you don't have time, or even the energy, to do on your own. Our cleaning professionals will treat your home with the utmost care and respect while providing a thorough clean that will have you feeling like you just moved in. Some of our many residential cleaning services include:
Carpet and Upholstery Cleaning
Window Cleaning Services
House Cleaning Services
Eavestrough Cleaning Services
Construction Clean Up Services
We are an ISSA certified member with more than six decades of experience in the industry. We have been providing service to the Greater Toronto Area with home cleaning for a long time. We've accumulated extensive knowledge over the years which has helped us perfect the art of cleaning. Most of our team of professionals have been with us for over a decade, so when you do business with Royal Building Cleaning, you are dealing with individuals who know the industry. Furthermore, they know that our clients expect an immaculate living space after working with a company with our history and reputation. Royal Building Cleaning is a fully bonded and insured company, up to date with all WSIB clearance compliance, so you always have peace of mind that you are dealing with a responsible, trustworthy business.
RBC's cleaning professionals deliver honest, thorough residential cleaning services throughout the GTA. When you hire us to clean your home, we are able to provide you with an optimized, customized cleaning options fully designed to fit your unique needs. Every single customer is different, which is why we believe that our services should be flexible and accommodate your busy schedule. Whether you need monthly or annual cleaning, or would like us to come in weekly or bi-weekly, we are here to serve you.
When we clean your home, our cleaning professionals only use the best, highest quality cleaning products on the market. This is part of our commitment to excellence and getting the job done correctly. It is part of what has kept us in business for so long. Good tools can make or break one's success. We are also a company that is environmentally conscious, aware of the impact that cleaning products and chemicals can have on the environment (your loved ones included). Our desire to be a green company and act in an environmentally friendly manner factors into the cleaning products we use and the ones we sell to our customers. If you prefer we use specific products in your home we would be happy to use your products for Residential Maid Services.
Contact Royal Building Cleaning today and let us design a cleaning schedule that fits all of your residential cleaning needs. You can contact us at 888-463-5555 or 905-294-3311. Our offices are open Monday to Friday, 8:30AM-5PM.
Back