Professional Window Cleaning Services
Professional Window Cleaning Toronto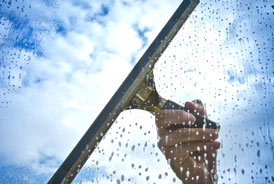 Royal Building Cleaning provides professional window cleaning for your home and office.
Whether you are looking to clean the exterior glass only or receive complete inside and outside cleaning our team will provide a detailed and thorough cleaning.
Experienced and dependable professionals
Our experienced and professional window cleaners will leave your windows sparkling and clear.  We meticulously clean your tracks, sills, screens and frames as a part of our complete window cleaning service.
Year round service
If you require service one time only or are looking for a consistent window cleaning schedule we can provide window cleaning service year round.
Your standards and the environment will determine the window cleaning frequency required.  Typically we recommend complete window cleaning inside and outside at least one time per year.  Many customers decide to have our service twice per year, spring and fall.  If you are a high traffic facility or have a retail storefront or showroom we recommend window cleaning service on a monthly basis to keep your facility looking its best.
We offer window cleaning to the following facilities:
Commercial, Retail, Recreational, Industrial
Residential Homes & Condos
High Rise & Low Rise
Interior Office Partitions
Contact us today for a quotation.
Back
Request Info
Latest Blog Post
May 14 | 2018
Did you know that providing a clean work environment is as important for your business's profit margin as generating sales is? There have been numerous studies backing the psychology of its importance. Hiring the right commercial cleaning and janitorial services for your company will help endorse your company as a healthy, efficient work environment and in terms of simply professional appearances. Endorse a Professional Appearance Impressions matter, and capturing a desirable first impression for anyone who steps into your company is crucial for your brand. After all, your company is…
View All
FAQ
We ask customers that are able to roll up their area rugs and have them ready for pick up. Alternatively we can accommodate moving of furniture and rolling of area rugs for an additional charge. Please contact our office for more details.
View All